A New School Option for Lakeland Families
Lakes Church Academy: Providing a superior education in a nurturing, Christ-centered environment where every student has the opportunity to succeed.
Lakes Church Academy is an educational institution where students are encouraged to explore the world around them with a biblical worldview. We believe that God created each student uniquely, and we want to help them become more than conquerors for His Kingdom. Our goal is to equip students with the tools they need to be successful in life and serve as ambassadors of Christ throughout their community.
You can rest easy knowing that your child's education at Lakes Church Academy will not only prepare them academically, but also spiritually and socially. Your children will learn how to live out their faith through service projects, chapel services, mission trips, and other opportunities available at our school. They'll be equipped with the knowledge needed to make good choices when faced with difficult decisions later on in life – all while having fun! Come see what makes us different from other schools today!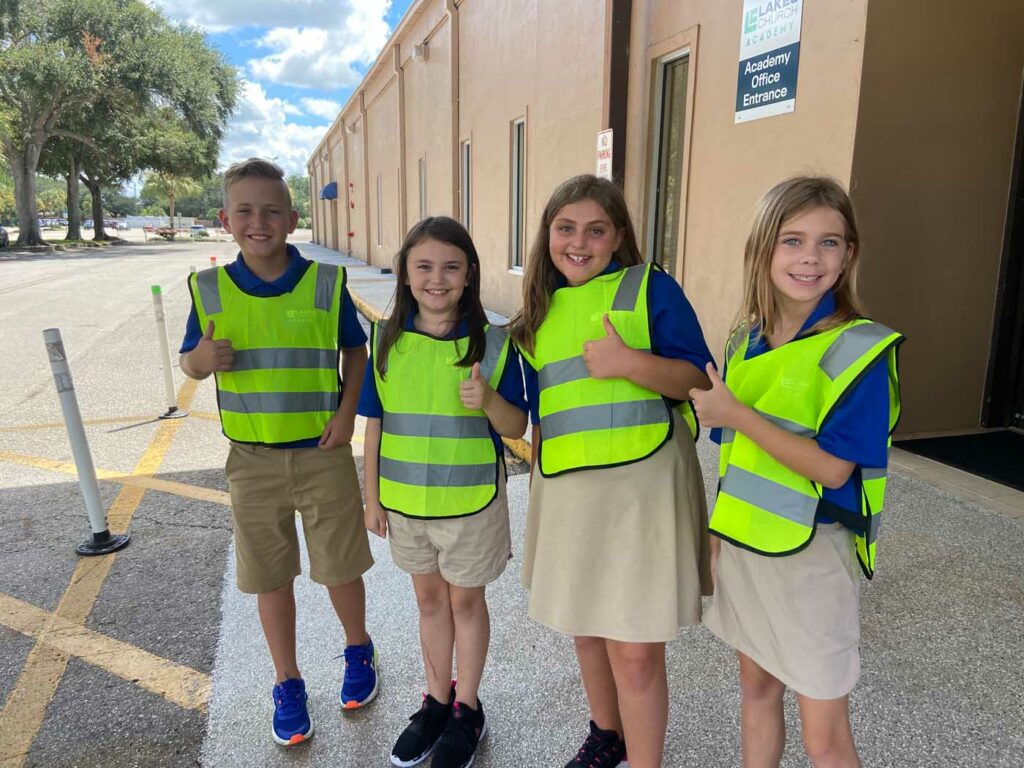 LCA still has a few openings for 2022-2023 in some grade levels! – come take a tour and see if you are ready for a change!
Rather than utilizing a single curriculum, we will be taking the very best from a variety of sources so your child will receive the highest level of instruction through, peer reviewed, well researched curriculums.  For math, we will be using Eureka Math which is a holistic, progressive approach to teaching mathematics through fluency practice, concept development, application and assessment.  Through this instruction students gain a deeper understanding of the 'why' behind the numbers, all while making learning fun!  Our reading curriculum is Reader's Workshop created by Columbia University's Teacher's College.  This well-rounded model of instruction consists of three parts:  a mini-lesson, a workshop, and a debrief or student conference.  The goal of this instructional practice is to support learners in reading and writing independently. 
Lakes Church Academy will be a Christ-centered environment.  Teachers will educate from a biblical worldview and be sensitive to the spiritual needs of students.  We will utilize the ACSI Curriculum for teaching the Bible.   This curriculum focuses on teaching students about individual Bible characters and biblical truths that are essential to our Christian faith.  Our desire is for students to discover the Good News of the Gospel, that salvation from sin is found through a personal relationship with Jesus Christ.  In addition to a daily Bible lesson students will attend a weekly chapel led by our Lakes Church pastors.
Extracurricular Activities
Extracurricular activities include: art, indoor/outdoor P.E., music, recess (daily), media, and STEM classes on a weekly basis.
Tuition amounts (non-scholarship amounts):
PreK-4: $6900 yearly.
K – 2nd:  $7950 yearly.
We will be accepting the StepUp scholarship.  We are currently working through the enrollment process and will notify families once we have our school ID.  If you are interested in receiving this scholarship you can learn more here: https://www.stepupforstudents.org/ 
Grades offered for the 2022-2023 school year, PreK-4 through 3rd grade. Grades offered for the 2023-2024 school year, PreK-3 through 4th grade.
All teachers are mature Christians and are State certified with bachelor's degrees in education. 
School hours: 7:30a – 2:30p
We are following the Polk County School Board calendar.  The first day of school is August 10, 2022.
We are not able to provide before and after school care, but are working with local providers to assist with this.
For the 2022-2023 school year we are asking students to bring lunch with them to school each day.
Students will wear a Lakes Church Academy shirt (order info coming) and khaki bottoms that are purchased separately.   
We have dedicated school security personnel, cameras and a secure facility. 
We'll be utilizing the Student Information System (SIS / formerly Renweb) by FACTS to keep families informed of student performance, school activities and other events. 
Each child will complete an academic assessment during an application interview to assist teachers in lesson planning.  To start this process you can apply here.
We are a member of ACSI, the Association of Christian Schools International, and in process of accreditation.